TOPIC : Using Customer Insights to Drive Strategy
A well-executed business strategy can mean the difference between an organization's life or death in the marketplace, but what best informs that strategy?
In this "Using Customer Insights to Drive Strategy" presentation, RealPage VP of User Experience Bill Rattner explores why and how businesses will want to leverage experience-design work in new ways. Bill shares ways that Experience Design can increase product leadership, operational excellence and customer intimacy. Using real-world examples, Bill expertly supports the force multiplier of combining design strategy and product strategy to effectively drive a comprehensive strategy that delivers top-line and bottom-line growth.
Watch the video now:
Following are highlights from Bill's XD talk:
I think one of the best ways that we could start about talking about using customer insights is definition, and I am fond of simple definitions. Strategy is simply deciding what to do, and the insight is discovering why to do something. You can make the argument deciding what not to do, but it's basically deciding what to do and discovering why to do something.
My background is design. My background is user experience. We're very fond of saying a better user experience leads to a better bottom line. That's fantastic, but we need to be more specific about that.
… We're both saying strategy, but we mean different things. Design strategy focuses on providing a framework for developing design solutions that support a given product strategy, whereas a product strategy – and I'm talking about digital products here – addresses the business model, roadmap, and prioritization of business requirements for a product. So if we're not clear about what product strategy means, our design insights invariably fail to hit the target. Quite simply, the crux of this is taking these two things and making them better together and moving them together.
Here's this situation that design professionals typically encounter: A business engages a design team to take on a design project and the product strategy is already in place. In a worst-case scenario, it's in place and it's not shared with the design team of the consulting company that's going to be doing the work. Then product management gives the design team a set of business requirements they've derived from the business strategy and asks design to turn them into designs. This is what I call the "make it pretty" stage, and it's what is missing from the business value that we're able to derive.
Then finally, user researcher evaluates the usability and visual appeal of their design and suggests design improvements. That's the design strategy, but there's this weird semi-permeable membrane in the middle where things don't get through. And what doesn't happen when you don't get through that, is you don't answer, does this product support the users' needs and drive business results? There's a feeling that user experience is like the public defenders defending the user from the evil business, but it's not true. It's like we're trying to all do the business together.
We say, how should we prioritize the business requirements our design must meet, and how does this digital initiative fit into the larger business contact? If you're not answering all those questions, you're not solving the design and product problem that needs to be solved.
Product owners say, "Design is just tactical, not really that important. Just make it pretty." But then on the other side of the equation, there's plenty of design professionals that are very content to just do the design strategy and leave it at that, and not learn about the business, and not learn about those opportunities that are out there.
Here's something I learned early in my career and it's actually been very helpful. I call this the design practitioner's guide to the mysterious language of business. The language of CEOs speak in terms of market size and market share. The language of VPs and line managers speak in terms of revenue and costs. The language of directors speak in terms of features and function. Now why is this important? Because if you speak the wrong language to somebody, they're not going to hear what you're saying. If I talk to our CEO about feature and function and the nice little navigation that slides out, he's not going to be as interested as if I talk about a market opportunity that can help us increase market share and market size.
How do we go about using these customer insights to drive strategies? What basically needs to change? Well, clearly understand that the product strategy is not the same as design strategy. Develop a deep comprehensive understanding of how design can drive business and success in these three areas: product leadership, operational excellence, customer intimacy. Plan your research to target product strategy questions rather than just design implementation questions. And then finally, focus on synthesizing and communicating high-level strategic insights rather than just detailed usability recommendations.
As we look at a customer journey map, this is a traditional deliverable. For those who are not familiar with a customer journey map, you're looking at what a customer is thinking, feeling, and doing as they go through a purchase typically, and you're looking for points of delight, but you're also looking for pain points that have areas of improvement. As we do this, we'll be thinking about product leadership, operational excellence, customer intimacy, which doesn't always come out in a customer journey map, and then also product strategy.
Photos from the event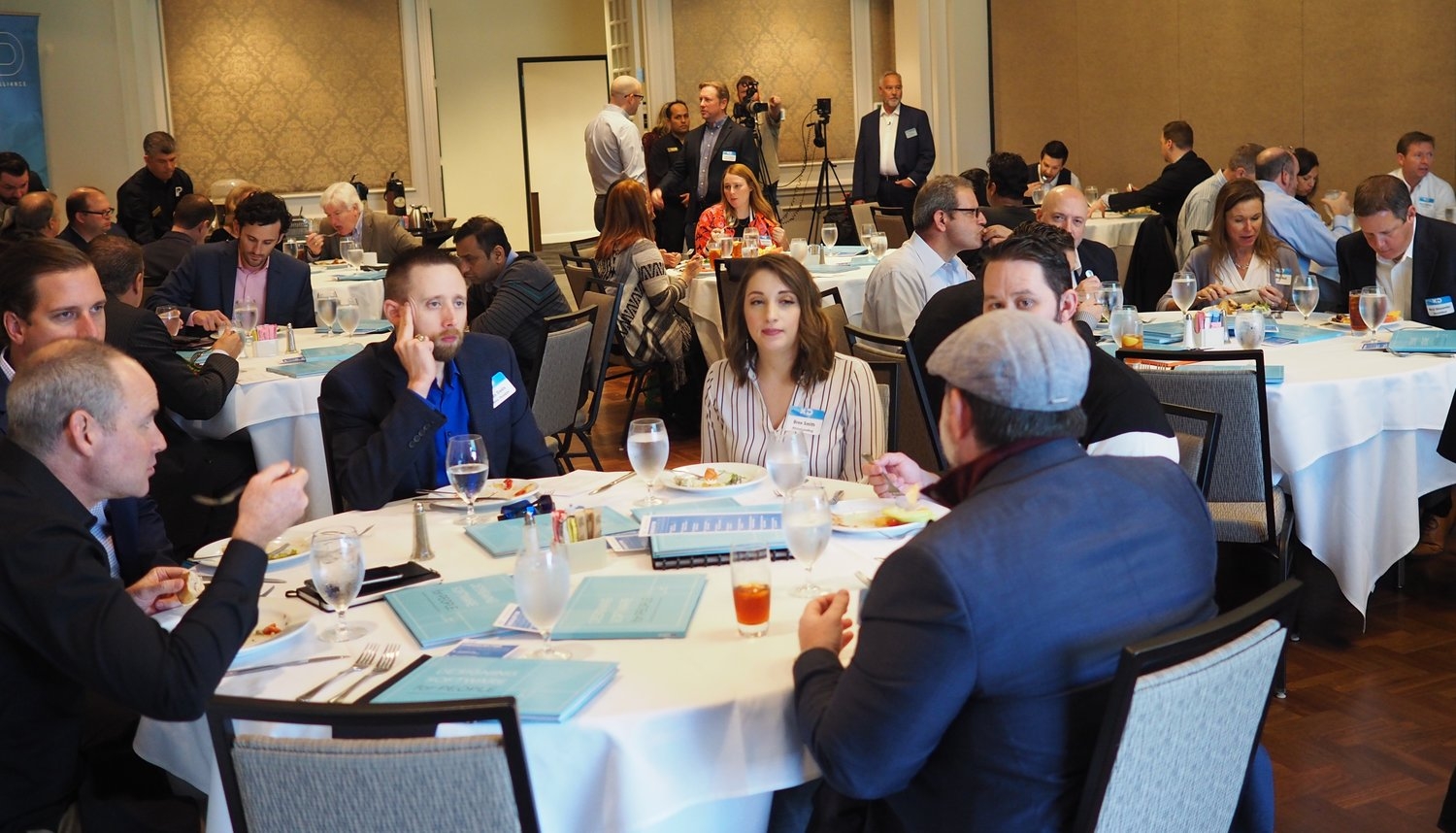 Wonder what it's like inside an XD Leadership Alliance meeting? Here's a short walk-through before our event featuring guest speaker and RealPage VP of UX Bill Rattner:
XD Leadership Alliance events are open to members only. Membership is free.
For details on this leadership group and our next meeting, apply to join today.
About XD Leadership Alliance
The mission of the XD Leadership Alliance is to recognize and connect industry thought leaders in the fields of design, technology, research, product and marketing. As customer experience continues to be the top driver of digital transformation for organizations, experience-driven (XD) businesses are leading the way in increasing market share and delivering greater ROI. The new ideas and collaborative efforts of the XD Leadership Alliance are aimed at keeping us at the forefront of this vital economic initiative.

For more information and to get involved, visit the XD Leadership Alliance now at experiencedriven.com.